Workshop Date/Time (range)
-
Just:  /jəst/ adjective based on or behaving according to what is morally right and fair.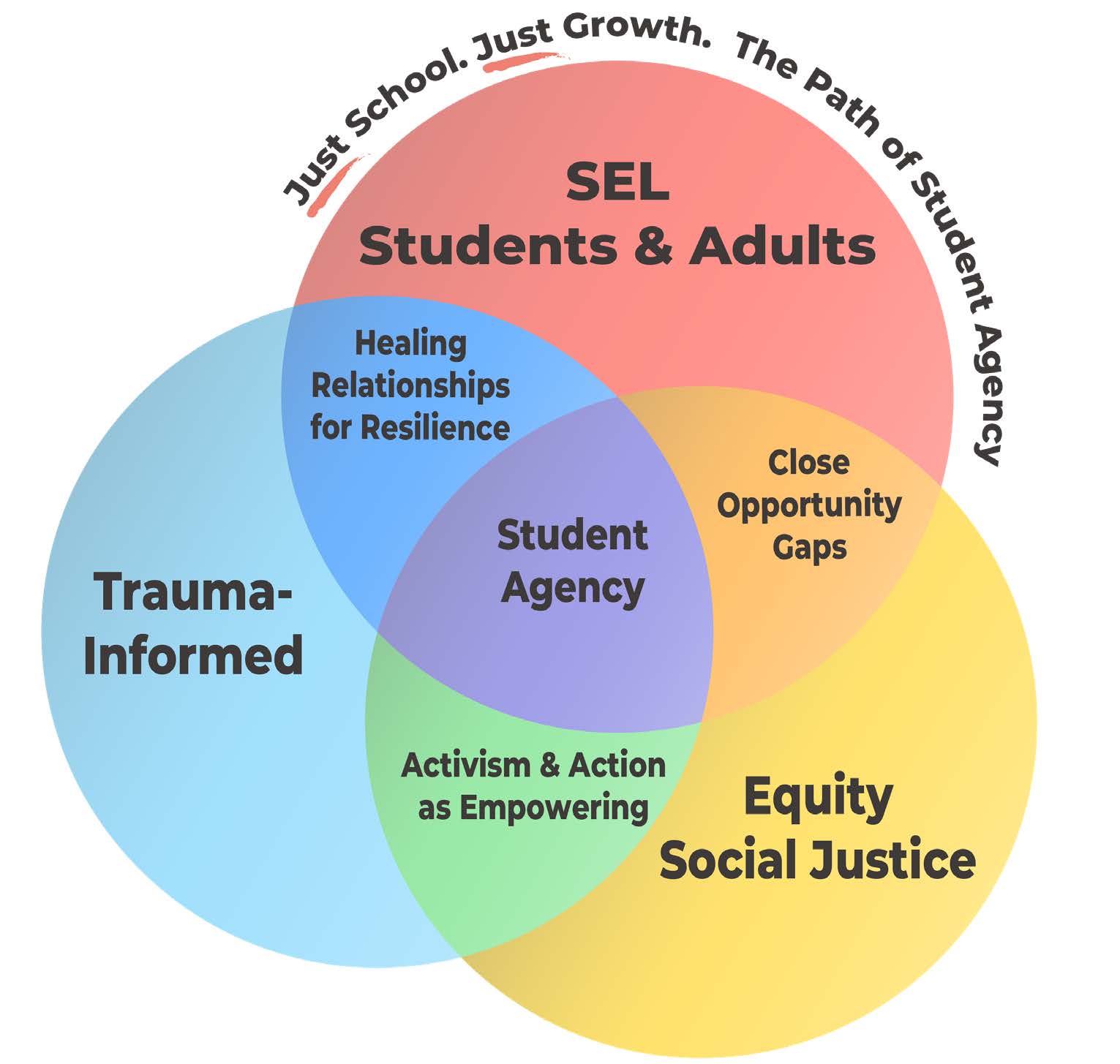 All learning is social and emotional, but to truly thrive, students require equitable and trauma-informed learning spaces. For instance, a student of color who experiences racist taunts (microaggressions) and reduced expectations is challenged socially & emotionally, experiences trauma, and suffers inequity – all at once.
Equity, Trauma-informed and SEL work are instrumental to reducing toxic stress and creating safe, nurturing, and stable environments for each child. It is here where we will be successful at closing the pervasive opportunity gap.
Educators who attend this series recognize that schools who integrate these three areas support each students' needs for positive growth - intellectually, emotionally, mentally and behaviorally.
Overarching goals:
We are excited for you to join us on this three-session journey! We will use this integrated roadmap to create and maintain learning spaces where each student feels and is - safe, connected, supported and challenged. Each session contains the recursive threads of SEL, Equity and Healing Informed practices for Trauma that encourage us to reimagine, reinvent classrooms and schools around the principles of equity, authentic learning and stronger relationships.
Collaboratively, we will map the connections among these three driving initiatives to quell overwhelm and ensure PD is balanced and focused on your school's/district's unique needs. Every session makes concrete connections between what we are doing in our daily practices and larger outcomes.
All of our Just School. Just Growth: A Path to Student Agency sessions are led by its program developer, Sharon McCarthy, popular TMI-ENVISION SEL Specialist/Lead Consultant, ENVISION President dynamic presenter and author.
Note: According to a CORE Education report (2017) the benefits of student agency are: Students take ownership of their learning; Students develop self-regulating skills; and Student voice emerges leading to empowerment.  Importantly, agentic children turn into agentic adults!
---
Session #2: Intersection of Trauma & Equity: Activism & Action is Empowering
Inequities in the school setting can cause or worsen trauma. Additionally, many classroom/school practices cause inequities for students who struggle with the impact of trauma. Scholars emphasize that the structural inequality in schools seldom leads to contexts where students have agency (Donnor & Shockly, 2010). Agency is not an isolated action where students exist in a vacuum, rather, agency is co-constructed in communities of practice (Lave & Wenger, 1991) as students adopt various identities in complex social situations and experiences. Think of a typical learning space - what internalized identities are being adopted by marginalized populations?
Solution: Our focus here is to create spaces in which folks can adapt and heal, thereby strengthening resilience. As Learning spaces adopt healing-informed practices and experiences that allow for students to share their voice, histories, cultural identities, experiences, languages, and interests, learning and change accelerates rapidly. Racism and inequity are integral aspects of historic trauma and have intergenerational consequences. Our classrooms need to change our response patterns personally and systemically - using practices for healing-informed care. Trauma is a lens, not a label. Healing -informed practices should fix learning spaces, not kids! True trauma-informed education is anti-racist and against all forms of oppression. Building true resilience requires equitable learning spaces - Teaching marginalized groups to be resilient in the face of discrimination isn't equity - ending discrimination is.
Participants can expect to acquire the knowledge, skills and dispositions to:
Establish common language of trauma-informed & equity
Develop an understanding that we live in a racialized society that gives unearned privilege to some while others experience unearned disadvantages their learning community
Build critical consciousness in students - thereby partnering with our students as change makers for a more just society
Understand & practice restorative practices rather than punitive practices
Consider distinctions of Equity - CRE; Social Justice Standards; Multicultural Education
Normalize the practice of speaking about race and understanding events and experiences through the lens of race, culture and power
---
Audience: All Grades PK-12 Educators
Presenter(s): Sharon McCarthy, TMI-ENVISION SEL Specialist/Lead Consultant, ENVISION President
Location: Ramapo College of NJ (Mahwah, NJ); Trustees Pavilion 
Date/Times (attend any one or all):
Session 1 - October 21, 2022; 9am-1pm (EST)
Session 2 - November 2, 2022; 9am-1pm (EST)
Session 3 - December 6, 2022; 9am-1pm (EST)
Cost: $159 per session; $477 for three sessions. Please register for each session separately, if interested.
---
The TMI-ENVISION SEL Professional and Personal Learning Series: Ensuring Safe, Healthy and Equitable Learning Spaces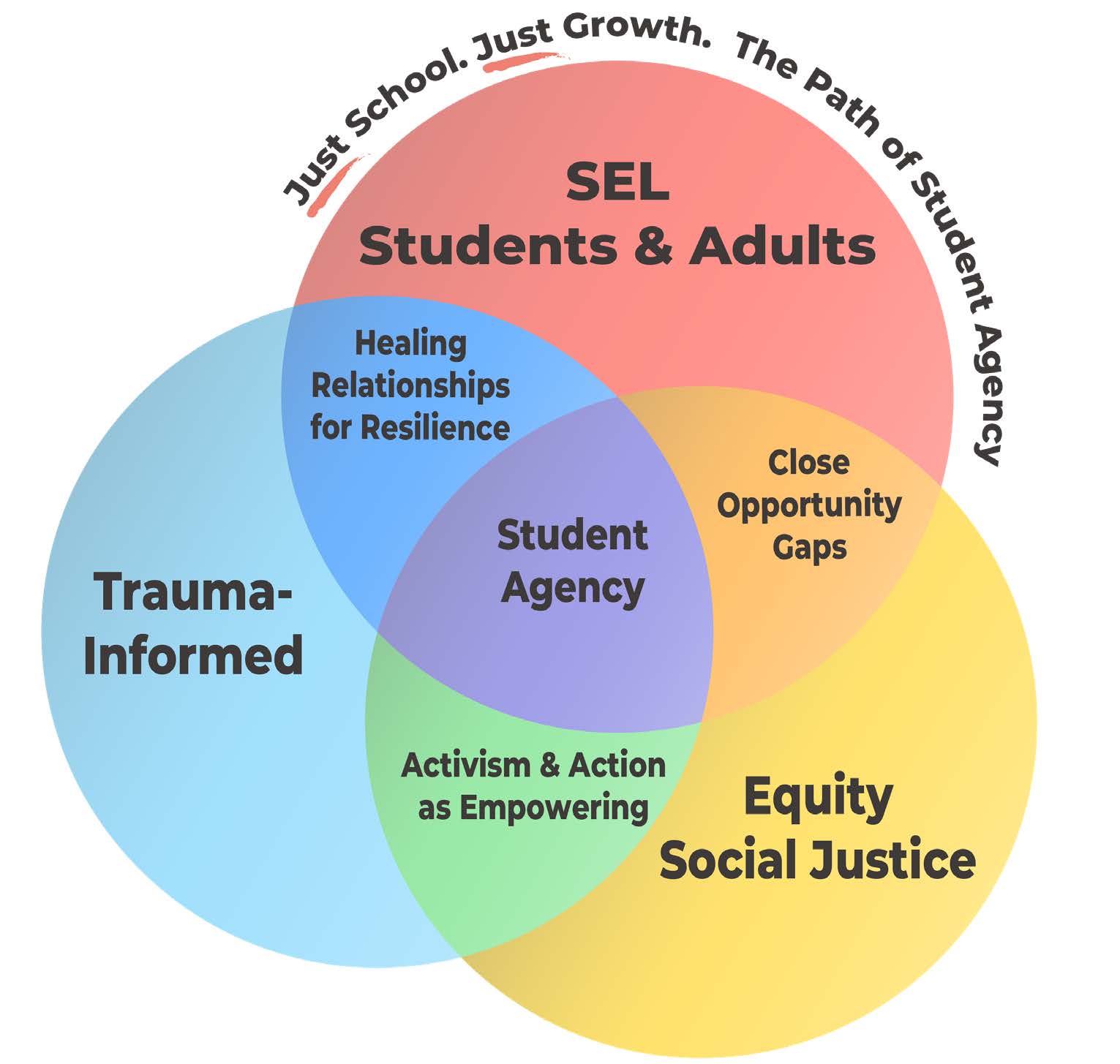 The past two years have dramatically changed all aspects of our lives. We are more keenly aware than ever that our classrooms are integral to the health and well-being of our communities. These events have brought into sharp focus that the future of education lies at the recursive intersection of Trauma - inclusive of ACEs & Chronic Stress; Social Emotional Learning (SEL); and Equity & Social Justice.
To be clear, the approaches in SEL support and help heal those with the ACEs that contribute to Trauma. However, SEL is only successful in systems where Equity is valued and present. Equity is only possible when compassionate members of the system check their power, privilege and implicit bias, which is accomplished through the SEL competencies and sub-competencies. As educators, we tend to believe that all humans deserve to thrive socially, emotionally, cognitively, physically, emotionally and spiritually. We have the power to make the world - specifically our learning spaces - a better place - what would you like to do? What would you like to try?
The 2022-2023 TMI-ENVISION SEL Professional and Personal Development Series enhances your ability to turn your desires into reality. We think of our SEL Series as an integrated roadmap to create and maintain learning spaces where students feel - and - are safe, connected, supported and challenged. Each session contains the recursive threads of SEL, Equity and Healing Informed practices for Trauma. Take one, take two or take them all. Think of them as the vessel to hasten your journey to become the educator you are in your heart of hearts.
All of our TMI-ENVISION SEL Professional and Personal Development Series programs are led by Sharon McCarthy, popular TMI-ENVISION SEL Specialist/Lead Consultant, ENVISION President dynamic presenter and author.
---
Payment Methods and Cancellation/Refund Policy: Payment can be made by purchase order (PO) or check to TMI Education, LLC. Please mail all correspondence, including purchase orders, checks and agreements to TMI Education – PLC Division at PO Box 922, Madison, NJ 07940. If you are unable to attend a program for which you have registered, email the TMI PLC at [email protected] or call seven (7) days prior to the program to request a refund. No refunds will be granted unless notification is provided within this time frame. TMI Education reserves the right to cancel events for any reason, including inclement weather and instructor illness. If TMI Education makes the decision to cancel a workshop, we will use the EMAIL contact information you have provided to us to inform you. In addition, we will post the announcement of cancellation on the respective TMI Education website event page. If TMI Education cancels, participants will be provided a choice of:
a full refund;
transfer to another, upcoming workshop date and location (space permitting); or
credit toward a future workshop. (Please note that all credits expire one (1) year from the date that they are issued.)
---
Video-Recorded Virtual (Zoom) Sessions and Tips to Maintain your Privacy during a Recorded Session:  As an added value, all virtually-delivered programs are video recorded and accessible to our workshop registrants and Professional Learning Consortium Members subsequent to the session. Therefore, each virtually-delivered workshop and webinar will now have Zoom's Recording Disclaimer enabled by default. With this feature, attendees will receive a notification when a recording starts or if they join a session that is already being recorded. The participant can then consent to stay in the session and be recorded or choose to leave the session altogether.
Tips to Maintain your Privacy during a Virtually-Delivered Session: Actively engaging in Zoom sessions is important. Participants may have concerns, however, of a Zoom session recording capturing their participation. Meeting hosts or instructors are taking steps to minimize this concern. In addition to the consent, participants can also use the following steps and features to take control of what is shared when a session is being recorded.
Change your participant name displayed in Zoom (e.g. only use your first name, replace your name)
Disable your video
Mute your audio
Do not communicate via the chat feature
Do not upload an identifiable profile photo
Please refer to Zoom's Attendee Controls for more information on how to use these features.